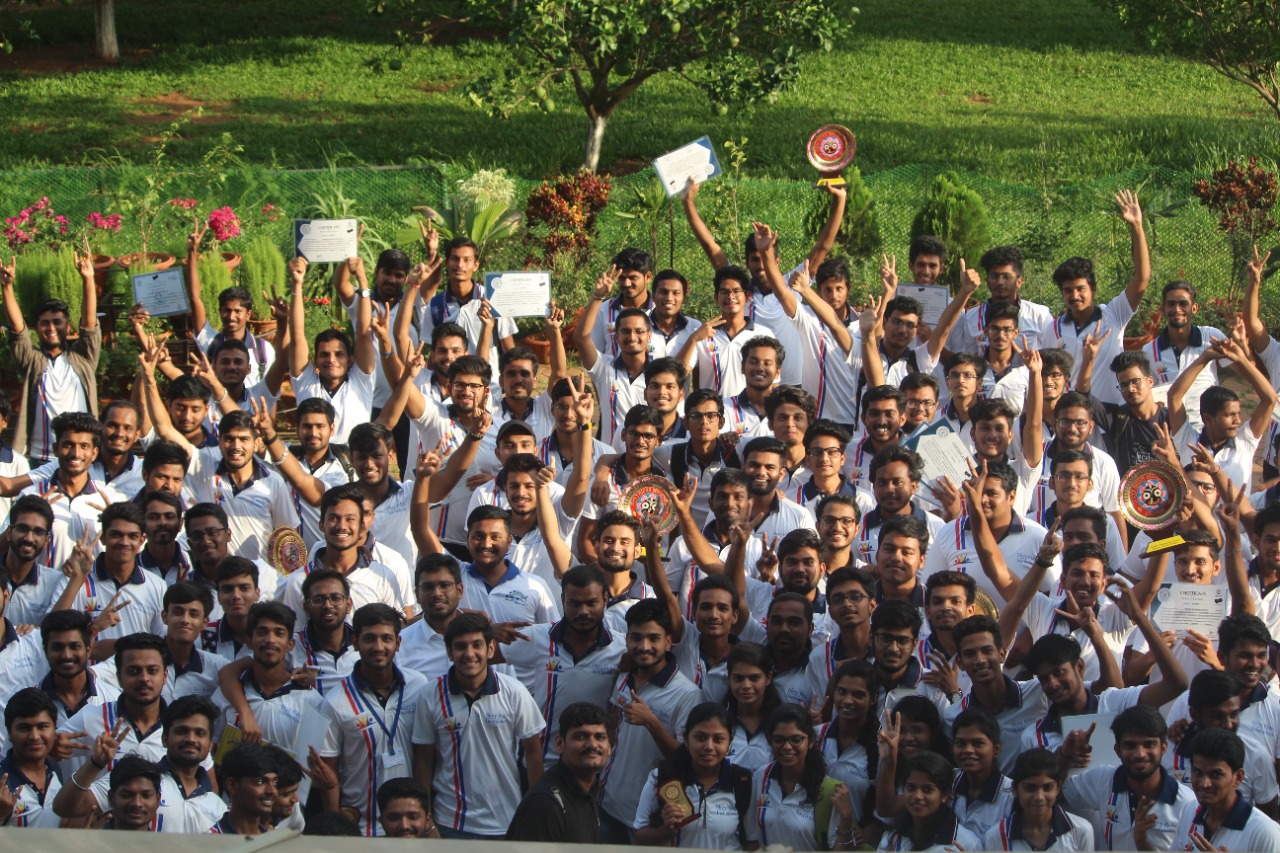 About Skyyrider Institutions
Skyy Rider Institutions is one of the leading Skill development platforms which offers various industrial courses in association with top-notch industries like Ashok Leyland, TVS, Ultratech, Bosch Rexroth, BOSCH and leading Universities like Centurion University, CV Raman Global University. With the initial avatar as Sky Rider Automotive in2015, we were rechristened as and registered as Skyy Rider Institutions Private Limited in 2018. We have trained over 1 Lakhs students in its various programs.
Skyy Rider is working in the domain of Automotive, Electric Vehicle, Mechatronics, Industrial Automation, Construction Technology, Manufacturing, CAD Design, Data Science, Computer/IT, ML and Python, Java, Drone, and many other advanced skill sectors. The industry collaborative programs and programs curated under the guidance of experts from industry have made our programs industry compliant making the participant to become industry ready after joining us. We have an enviable track record of 96% placement of our students.
The blended programs with live sessions with Industry experts, and project-oriented pedagogy have made Skyy Rider stand tall among its peers in the industry. We are currently serving in 7 countries: India, Sri Lanka, Bhutan, Bangladesh, Afghanistan, Pakistan, Nigeria. Our participants are extremely satisfied after graduating from our courses because of the live interactive and case-study-based sessions. The 1:1 mentorship and guidance from experts also go a long way in our career counselling endeavour for the students to choose the right path for her/his career and pursue the dream profession.
We are certified with ISO 9001:2015 and ISO 29990:2010 which shows our competency in quality and delivery.
Our
Prime Motto
Job Leading Programs

Our programs are developed in the mentorship of experts working in various departments of the industries. All the job leading courses developed by Skyy Rider have a blended mode of delivery to ensure that the students not only learn from experts but also learn by their hands-on practical experience and live projects at our campuses which accounts for our high record of placement. At the end of the training, we connect the students our numerous industry partners and facilitate the placement in the Core & Non Core sectors. As getting a job in core sector has become tough for graduates; our innovative skill upgradation programs have served as the quality assurance of the students for the Industry leading to such high placement percentage.

Our IT Courses have been a game changer in placement. We have archived a mark of 150% in IT courses over the time, it means each candidate has minimum of 1.5 jobs in hand.

We have offered upto 12 LPA in core and 15 LPA in IT sectors.

Industry linked Courses

The industry-linked programsat Skyy Rider are unique initiatives and are one of its kind in the Edu-Tech space . We collaborate with top Companies of the related domain and conduct various programs which can make a student skilfully strong and industry-ready.

Case Study

Collaboration with Ashok Leyland- With Ashok Leyland, we have developed an Advanced Automotive Technology course where a student learns about basic Automotive technology and about heavy commercial vehicles. The training is completely provided by Ashok Leyland STC Chennai team which is probably the rarest in the field. Participants get to learn directly from experts from Ashok Leyland Chennai and interact with them over the live sessions. The end of the training assessment is done, and eligible candidates will get a certificate from Ashok Leyland directly. This course not only helps them to build a strong understand and base in Automotive Technology but also helps them to build an amazing profile with the addition of a highly valuable certificate from Ashok Leyland.

Not just Ashok Leyland we have collaborated with several other industries for various kind of programs. BOSCH for Auto Electrical &Vehicle Diagnosis program, TVS for two-wheeler technology and maintenance program, ASDC for four-wheeler Technology, Ultratech for Construction Technology, BOSCH Rexroth for Mechatronics. We are constantly working towards enlarging our bouquet of such courses, by connecting with more diverse industries .

Live Project

We offer live projects in various courses which include real-time Model-based Development (Online projects) and Real prototype Development (offline). For example, we have a live project: Electric vehicle Design and Development, where a student designs a complete Electric Vehicle on CAD, analyses the design and develops the circuit on Simulink, and then makes the real electric vehicle and tests the same. This experience makes a student confident completely ready for any departmental job in an industry.

We have both online, offline, and blended modes of delivery to make out students skilled by rigorous practical and hands-on experience at our labs. Our project-based internships have been widely accepted and recognized by industries. Currently, we have an offline centerin Odisha and satellite centers at Prayagraj and Hyderbad. Our state-of-the-art labs helps students to experience a simulated industrial environment to refine their learning and industry-readiness.

Electric Vehicle Manufacturing Set up and Training

(Skyy Rider Electric (EV manufacturing plant of Skyy Rider) and Skyy Rider Institutions (Ed-tech)) Skyy Rider has another unit- Skyy Rider Electric which is I-cat approved Electric vehicle manufacturing Unit situated at Odisha which has capacity to manufacture 100 three-wheeler EVs every month. From design concept to development and complete manufacturing is done at the plant of Skyy Rider. So, the core knowledge extracted from the manufacturing set up is made available to the students in terms of training of Skyy Rider institutions. It is indeed a factory in the Campus!!

Because of the direct implementation of EV core skills in the EV manufacturing plant; Our EV training is one of the finest in India and provides a core understanding to students. Not just that, students visit our plant for internships and real-life experiences.

Internship

We offer various internships to our students' time to time to give them a real-world problem-solving experience. We open various vacancies for interns and give opportunities to our students to explore the opportunities. We also offer internships to our best-performing students at our Electric vehicle Manufacturing plant in designing, manufacturing, quality, Manufacturing/ Production, Maintenance, and many other areas.